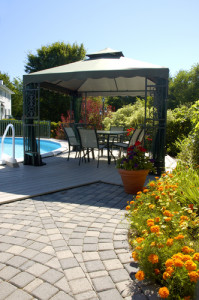 As the temperatures heat up and barbeque season is in full swing, the outdoors beckons. Early morning coffee on the back deck as the sunrises and late evening gatherings to watch the stars come out do not require shade, but to fully utilize your outdoor area, consider these tips to expand your living space with outdoor style. Make a patio If you do not already have a patio, DIY one in a couple weekends with one of these easy ideas:
Laid Pavers: Most DIY stores have pavers available in their outdoor area. Pavers come in standard shapes like rectangles, squares, octagons, and circles, or in abstract shapes that fit together like a jigsaw puzzle. Some are brick-like and others are stone-like. No matter which ones you choose, make sure to prepare the patio foundation before laying your pavers. You will find dozens of instructions and online videos like this one to help you on your way.
Inset Pavers: For a quick alternative, set large pavers into your existing turf to create a useful patio area. Set your stones on your lawn in the pattern you like. Use a sharp blade to cut around the stone deep into the turf. Move the stone and remove the turf, leveling the soil. Pour playground sand over the soil, and set your paver into the space and level it. Continue until all stones are where you want them. Grass will grow between your stones, giving your patio an old-fashioned look. Pavers set this way shift over time due and may need resetting periodically.
Use grass and turf pavers. Popular in Europe, grass and turf pavers have a honeycomb design that allows water to permeate and grass to grow through. The effect is a verdant lawn appearance with the usefulness of a patio. An added advantage is that the earth and grass in the pavers keep your patio area cooler than a concrete or solid paver patio.
Provide shade No matter where your home is, sometimes you need shade in order to enjoy your outdoor space. Of course, long-term options include planting trees or creating an arbor with vines to provide a natural sun-cover, but for quicker options try one of these:
Canopies and Gazebos: Available at outdoor stores, DIY centers, discount retail stores, and even closeout chains, covered gazeboes offer beauty, shade and versatility. Some have mosquito net curtains for an added benefit. You can set them over lawn, an existing patio, or even a driveway for a temporary space. They require some assembly and winter weather may damage the fabric coverings to plan to disassemble and store them after summer and fall.
Add shade to an existing porch with outdoor shades. Simple roll-up shades are easily installed and available from most discount and DIY retailers. Custom shades with sturdier hardware (and even motorized roll-up options) that retract into protective covers are the most durable option.
Retractable awnings mount on the exterior of your home and extend out over your patio area. Available in both manual and motorized versions, an advantage of retractable awnings is ease of storage in inclement weather.
Most simple of all is to set up a patio umbrella. Easy to find and easy to store, patio umbrellas offer a movable shade option. Be sure to set the umbrella in a solid base (metal or water-filled plastic). Adjustable umbrellas offer a tilt option to extend shade time. Protect your umbrella by lowering it at night so moisture runs off, and by storing it during inclement weather. WARNING: an open umbrella during a storm is dangerous both to your property and to your neighbors' property. If your umbrella comes loose, it can damage power lines and windows, or blow into roadways. If you live in a windy area, opt for a wind-resistant umbrella like these to protect your investment.
Compliments of Virtual Results