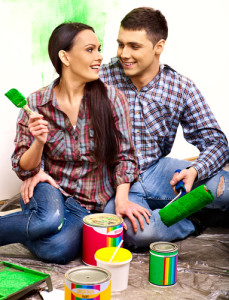 Much of the fun of owning a home is decorating it to your taste and personality. Even on a low budget, subtle or dramatic changes to color can make your home truly yours.
Check out these color schemes for this spring:
Updated kitchen: Since the kitchen is one of the most used rooms in your home, choosing color combinations that make you happy and hues that lift your spirits is really important. If your cabinetry is dark, consider lighter or brighter wall colors. You can add a splash of turquoise or a subtle Tuscan gold to give the room dramatic contrast. With lighter cabinetry, consider a deeper tone on your walls. Mocha, brick red or an earthy moss green can give the room a calming feel. Painted cabinetry gives you many more options for both blending and contrast. Check out this helpful site to discover the look that says "you."
Living areas: When choosing colors, consider how you will use the room. If your living room is also your family room, media room and home office, consider how much light your room requires throughout the day and into the evening. If your living room has few windows, you may want to use some of the lighter neutrals available from DIY retailers. Today's neutrals are not just various versions of white: they include greens, shades of taupe, warm and cool grays, and even some reddish hues. Offset your neutrals with one dramatic accent wall.
Bedrooms: Typically, the purpose of a bedroom is to sleep. Studies show that decorating your room in restful and calming colors such a blue, greens and grays can contribute to lowering blood pressure and promote sleep while other colors stimulate the brain and can affect dreams and creativity. Some colors even reportedly encourage lovemaking while others—including red—can discourage intimacy.
Bathrooms: Your bath can be a personal spa, or the room that the kids fight over in a rush to get ready in the morning. Making your room both relaxing and functional can be a challenge. Primary to bathrooms is a paint that resists moisture and is easy to clean. Typically, a semi-gloss paint is your best option. Because a semi-gloss paint has sheen to it, testing shades in the lighting of your bathroom is important before you paint the entire room. For a smaller room, consider a brighter shade that reflects the light and gives the room a glow. In a larger room, a deeper color can evoke a sense of warmth and restfulness.
Advantages of decorating with paint:
When decorating with paint, remember that in addition to it being relatively inexpensive, it is easy to correct mistakes and to paint over very personalized colors when you're ready to sell this home and move on to the next.
Compliments of Virtual Results